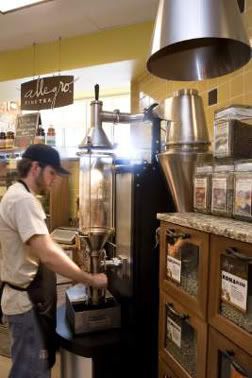 It's the last Whole Foods Friday, and that means one last $25 gift card to give away.  If you haven't had a chance to visit the Whole Foods blog, Whole Truth, you'll want to pay them a visit and take a look around.  Come back here and let me know what you think.  If you've been visiting their blog throughout the dkMommy Spot's series of Whole Foods Fridays, then leave me a comment telling me your family's healthy eating habits.  Do you eat healthy?  Or what would you like to improve?  I promise not to tell!
That's it!  We'll keep the last Whole Foods Friday simple and fun.  I can't wait to read your comments.  Oh, and I'll be leaving this contest open for a full week so tell your friends.  (I bet if they win, they'll take you along and get you one of those really good coffees.)
3 Ways to Enter: 
1.) Either visit the Whole Story blog then come back and tell me what you liked or learned there, or share something in my comments telling me your family's healthy eating habits.  I promise not to forward your response to your mother.  You know how she gets about that stuff. Remember, leave an interesting comment.  If I cannot contact the winner, you might be chosen instead based on your comment.
2.) Email subscribers are entered into this and all future giveaways, for as long as their subscription is active. Just click here: Subscribe to dkMommy Spot by Email (Please make sure to verify your Feedburner subscription by responding to the email they send you. If you do not receive it, check your junk mail. Only verified subscriptions are entered for all the giveaways.)
3.) Blog about this giveaway on your blog with a link back to this post.  Come back and leave me a Comment with a link to your blog post.
Feel free to do all three, and you have three entries to win! You have until midnight EST on Friday, August 22, 2008, to enter.