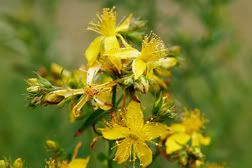 St. John's Wort (Hypericum perforatum)
Found: Fields, roadsides, wods, hedges, meadows growing wild. Identifying: 1 – 3 feet tall with oblong, pale gree leaves and yellow flowers.  The leaves are dotted with translucent oil glands which can be seen when held up to the light.  Pear shaped ovary.  Stamens appear in a bushy clustered bundle of three, and are joined at the bases.  Five petals, black dots on margins.  Seeds are round and black with a resinous smell.  Flowers June – September.  The leaves have a bitter taste.  
Parts Used:  Leaves and Flowers
Medicinal Uses:  Most commonly known for its ability to alleviate mild to moderate depression.  Proven many times over to be safe and effective.  The fresh flowers used as a tea or in tinctures or olive oil were once popular methods of taking St. John's wort for the relief of bladder ailments, depression, dysentery, diarrhea, and worms.  Also has sedative effects.  Children with urinary retention can take as a tea before bed.  Said to slow the spread of breast cancer to tissues between chest wall and lungs.  St. John's wort increases the skin's sensitivity to sunlight (see Allergic Reactions below); this is said to be what gives its effectiveness against not only breast but other forms of cancer as well.  Fresh flowers mixed with olive oil makes a great ointment for burns and skin issues.  St. John's wort also good for Crohn's disease, hemorrhoids, irritable bowel syndrome (IBS), diapetes, ear infection, mastitis, headache, insomnia, vertigo.
What Makes it Work:  Its compounds regulate brain levels of topamine, interleukins, melatonin, monoamine-oxidases, and serotonin.  Is considered a selective serotonin re-uptake inhibitor.
Allergic Reactions:  St. John's wort contains hypericin which may cause photodermatitis, or skin burns, when sensitive skin is exposed to light.  Don't try and treat severe depression with St. John's wort.  Some people report stomach upset, restlessness, or fatigue when using.
Interesting Notes:  In Germany St. John's wort outsells Prozac 20 to 1!  It's also being researched for use in AIDS treatments.
Note:  In the case of St. John's wort, do not use to treat severe depression and/or thoughts of suicide.  Seek a medical professional at once for help.