Click here for current contests & coupon codes.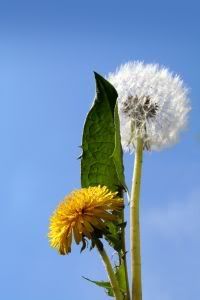 Dandelion (Taraxacum officinale)
Yesterday I told you I've started a new category called Herbs & Their Uses.  But I bet you didn't expect to hear me talk about dandelions, let alone see it featured as the first medicinal plant!  (We don't call them weeds here, no sir.) While dandelions may be an unwelcome guest in your lawn, their health benefits are numerous.  They are a prime example of how herbs and medicinal plants surround us without our even realizing we have healing in our midst. 
Identifying:  Certainly the dandelion is an easy plant to recognize.  The bright yellow flowers sit atop a hollow stalk ranging anywhere from 2″ to 18″ tall.  The leaves form a rosette crown at the plant's base, and each leaf has jagged "teeth", hence the common name "dandelion" or "Dent-de-lion" in French.  The flowers can get as large as 2″ across, blooming anytime in some areas, but usually from April to November.
Parts Used:  Usually the leaves and roots are used for medicinal purposes, but the whole plant is edible and has been used as a food.
Harvesting:  It's best to harvest the dandelion in the spring when all the medicinal properties are at their best, but you can harvest them anytime.  Don't dig these up in your yard if you've fertilized with weed control or any other chemical substance.  Find a nice field where you're certain no weed killers or contaminants have been applied.  Dig the plant up right to the roots, getting as much of the root from the ground as you can.  You can make a tea from the clean, chopped root immediately, or you can dry the herb by washing it then drying the chopped root and leaves on a drying rack (out of the sun) or in a food dehydrator.  Make sure it's totally dry before storing in clean glass containers out of the sunlight.
Medicinal Uses:  As a fresh root tea it's good for liver, gallbladder, kidney, bladder ailments, diuretic.  Tonic for weak digestion, and constipation.  Dried leaf tea a folk laxative.  Weak antibiotic for yeast infections, stimulates bile flow and weight loss.
Nutrients and What Makes it Work: Leaves and flowers high in Vitamin A and C; large amount of anti-inflammatory compounds in leaves and root.
Allergic Reactions:  Pretty safe plant, but it does irritate the skin of some people when picked.  Could be from the latex in the stems and leaves.
Interesting Notes:  Many towns and villages in China harvest the greens as a way to enrich their diet.  The scientific name, Taraxacum Officinale, gets its origins from the Greek "Taraxis," meaning "disorder" and "akas" meaning "remedy."  "Officinale" means "used in the office or workshop".