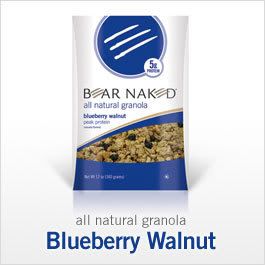 It's a granola.  No, no, it's a cereal.  Well, actually it's both, and no matter what way you look at it, it's Bear Naked.  That's because this granola has no funky unwanted ingredients.  Everything in Bear Naked is so natural they're able to brag about their ingredients label. 
Recently I tried out the Blueberry Walnut flavor (the last bits of it will be my breakfast – I blog before I eat.  Don't tell.) and I have thoroughly enjoyed it.  Oftentimes a packaged granola is chewy or stale, but not so for Beark Naked.  It was fresh all the way through the bag, and the dried blueberries were soft and flavorful.  Drooling?  No problem.  Bear Naked wants to give one of you a bag of their granola too!
3 Ways to Enter: 
1.) Just visit the Bear Naked site and come back here to tell me which flavor looks best to you.  Remember, leave an interesting comment.  If I cannot contact the winner, you might be chosen instead based on your comment.
2.) Email subscribers are entered into this and all future giveaways, for as long as their subscription is active. Just click here: Subscribe to dkMommy Spot by Email (Please make sure to verify your Feedburner subscription by responding to the email they send you. If you do not receive it, check your junk mail. Only verified subscriptions are entered for all the giveaways.)
3.) Blog about this giveaway on your blog with a link back to this post.  Come back and leave me a Comment with a link to your blog post. (If your comment doesn't show up right away, don't worry – I may have to approve it first.  My blog might think it's spam but gosh darn, I certainly don't!)
Feel free to do all three, and you have three entries to win! You have until midnight EST on Thursday, September 18, 2008, to enter.
Check here for other current giveaways at dkMommy Spot.