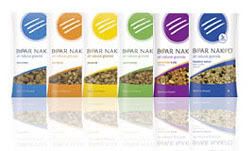 You know what your mom always said: "Breakfast is the most important meal of the day." Then why are you scarfing down cold coffee and a stale bagel?  Us moms need our energy to raise our brilliant little prodigies, kiss boo boos, and change the world by 5:00.  Let me offer you a little help.  Today we're preparing to give away one bag of my favorite flavor, Mango Agave, from Bear Naked's new Native Granola line.  I practically inhaled this bag of granola.  While you could easily eat it straight from the bag while driving the kids to school, I'm a cereal freak and ate most of it swimming in my homemade soy milk.  Just like the Blueberry Walnut granola, all the fruit in the bag was fresh and moist, and the granola itself tasted fresh as well.  
Mango Agave Almond has a blend of whole grain oats, agave glazed almonds and dried mangos, with hints of coconut, honey and cinnamon.  But the best part may be what it doesn't have!  No preservatives, artificial flavors, trans fats, cholesterol, hydrogenated oils or high fructose corn syrup.  This is a perfect morning granola – very energy giving, thanks to the almonds and fruit. Heck, you may just change the world by 3:00. 
Want to try a bag?  Bear Naked has one for a lucky dkMommy Spot reader!  
3 Ways to Enter: 
1.) Just tell me what you usually eat for breakfast – be honest!  And then tell me what you'd like to improve about your breakfast. Remember, leave an interesting comment.  If I cannot contact the winner, you might be chosen instead based on your comment.
2.) Email subscribers are entered into this and all future giveaways, for as long as their subscription is active. Just click here: Subscribe to dkMommy Spot by Email (Please make sure to verify your Feedburner subscription by responding to the email they send you. If you do not receive it, check your junk mail. Only verified subscriptions are entered for all the giveaways.)
3.) Blog about this giveaway on your blog with a link back to this post.  Come back and leave me a Comment with a link to your blog post. (If your comment doesn't show up right away, don't worry – I may have to approve it first.  My blog might think it's spam but gosh darn, I certainly don't!)
Feel free to do all three, and you have three entries to win! You have until midnight EST on Monday, September 22, 2008, to enter.
Check here for other current giveaways at dkMommy Spot.