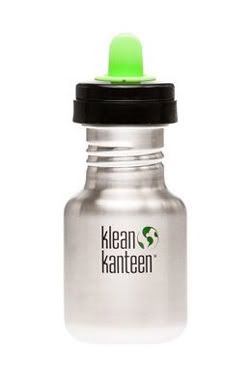 When my son got old enough to sit in his highchair and throw his food across my kitchen, I knew it was time to think about sippy cups. I had one in dreaded plastic which he promptly attempted to eat the painted characters off of, so that went the way of the trash can quickly.  While he often drinks right from a little mug and always has (yes, we have plenty of spills), there are times we still needed something more portable for his water, soy milk, or juice.  So I bought a beautiful, expensive and gleaming Sigg water bottle for him. 
Funny thing is, after a few months I couldn't get the smell out.  I tried everything.  The opening to the container is very small, and it's hard to even get a bottle brush down in there.  The cap is simply impossible to clean properly as it doesn't come apart, and it was beginning to smell of mildew.  I knew we had to get another solution, and right away.  Disappointed, I set the pretty little Sigg aside.
Awhile ago, I reviewed a company called Free Market Organics, and one of the things I talked about that impressed me the most was the owner Amelia's attention to the products she chooses to sell.  After reading the information she discovered about Siggs and the length she went to to discover the best water bottle for kids, my Sigg went the way of the plastic sippy cup.  Seems the Siggs use an epoxy of undisclosed makeup to line the inside of their bottles.  Juice and hot liquids cannot be put in the containers or it ruins this coating.  Not good.
Free Market Organics sells the Klean Kanteen, and Amelia sent me one to try for my son.  We took it on our vacation, so it really got put to the test – it was filled, dragged around, left in a hot car filled with water, dropped, and washed day in, day out.  No problems.  No mildew smell.  No epoxy lining. And the entire bottle comes apart, lid and all!  I can actually wash every little crevice of the cap, and I can see inside the bottle because of the wide mouth.  So we're switched over for good now, and everyone's happy – especially my son who can take his beverage along wherever we go, whether it's on vacation or in the kitchen tossing his peas.