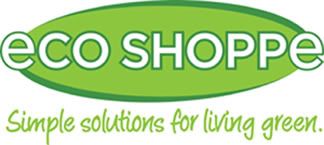 Have you guessed?  I love shopping online.  Maybe it's because around these parts, as in much of the country, I can't just hop in my car and go to the nearest store to find safe and earth friendly alternatives for the things I use everyday.  I recently found Eco Shoppe, an online store full of green goodies, and I just had to share them with you.
Eco Shoppe sells everything from biodegradable trash bags, which are not easily found in my neck of the woods, to Kleen Kanteen sippy cups.  (No plastic here, thank you very much.)  One of my favorite sections is Mother and Baby because it offers a great selection of items, such as adorable organic cotton onesies and flushable, biodegradable gDiapers.  If you're looking for safe and healthy cleaning products, Eco Shoppe has a nice selection of these as well.  I always appreciate an online store not afraid to list the ingredients in the products they sell, and you'll have every opportunity to read up on the cleaning products found here.  Ingredients are always listed.
I spoke with someone at Eco Shoppe, and she was kind enough to send me some information on plastic baby bottles.  Recent studies have revealed Bisphenol-A in many plastic baby bottles as a danger.  This information is just as important to Eco Shoppe as it is to me, and since Eco Shoppe carries Born Free, baby bottles free of Bisphenol-A, I happily stand behind their online store.  (Read the toxic baby bottle study here.  You'll be glad you did!)
Eco Shoppe is offering a special coupon just for dkMommy Spot readers.  When you place an order at Eco Shoppe, use the coupon code momspot to receive 10% off your order.  This coupon is good through 08/15/08 and will be listed on my Contests & Coupon Codes page.  A perfect opportunity to do a little shopping if you're expecting a new member to your green family, or if you've got a baby shower on the horizon.