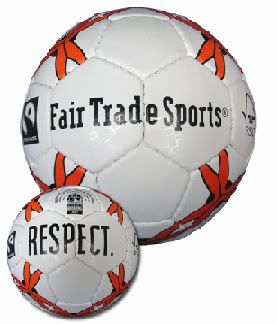 Fair Trade Sports isn't your average sporting goods company. That's because all after-tax profits go to benefit children's charities, and all of their items are–you guessed it–fair trade. That means the workers are paid a fair wage, and Fair Trade Sports manages to do that without passing the extra cost on to you. What's more, the workers are all adults. No child labor here! No, the children need only play, and that will be a lot more fun with a mini-soccer ball. This and all other products at Fair Trade Sports are eco-certified, union made, and vegan. Which is a relief, because I saw a soccer ball eating a steak last week, and it was very disturbing. What's that? Oh, they're not made with animal products? Now, that makes sense!
Fair Trade Sports is giving away one mini-soccer ball ($14.99 retail), which is a fun size for kids. It has a 6″ diameter, so it's a little more manageable for younger players. If you'd like to win one for your little Ronaldinho, read on!
3 Ways to Enter:
1.) Leave a comment after visiting the Fair Trade Sports site. Tell me which item you are the most interested in, or you can tell me something you like about the site in general. (Winners are chosen at random, but if the first winner selected does not claim the prize, the second winner is chosen based on comment originality. So have fun with your comment!)
2.) Subscribers are automatically entered into this and all future giveaways. Just click here: Subscribe to dkMommy Spot by Email (Please make sure to verify your Feedburner subscription by responding to the email they send you. If you don't receive it, check your junk mail. Only verified subscriptions are entered.)
3.) Blog about this giveaway on your blog with a link back to this post.
Do all three, and you've got three entries to win! You have until midnight EST on Saturday, June 28, 2008, to enter. The lucky winner will also receive one bottle of Super Echinacea thanks to our friends at Herb Pharm.