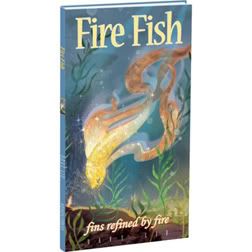 I have here one of the most beautiful children's books I've seen in a long time–Fire Fish.  Davy Liu, who worked on several Disney Films (Beauty and the Beast, Aladdin, Mulan, and The Lion King), has created a magnificent and spiritual world filled with the colorful underwater world of three very special fish.  The book takes your children on a journey as the three friends go on a search for their missing parents.  
Children will learn valuable moral lessons in all of Davy Liu's books, as he has written a whole series.  Each book, based on a biblical story and written from an animal's perspective, will eventually be put to film. These films promise to be truly stunning if the artwork in the books is any indication.  
I have here one copy of Fire Fish to give away.  It's not only a beautiful hardcover you'll love as much as your kids will, it's signed by the author as well.  To me, these always make wonderful keepsakes.  As popular as I'm sure the films will be too, you'll want to treasure these books.
3 Ways to Win: 
1.) Visit www.thefirefish.com and take a look around.  (This is a stunning site, so don't forget to come back!)  Come back here and tell me something you liked or learned during your visit.
2.) Email subscribers are entered into this and all future giveaways, for as long as their subscription is active. Just click here: Subscribe to dkMommy Spot by Email (Please make sure to verify your Feedburner subscription by responding to the email they send you. If you don't receive it, check your junk mail. Only verified subscriptions are entered for all the giveaways.)
3.) Blog about this giveaway on your blog with a link back to this post.  Come back and leave me a Comment with a link to your blog post.
Do all three, and you've got three entries to win! You have until midnight EST on Friday, July 25, 2008, to enter.
Check here for other current giveaways at dkMommy Spot.