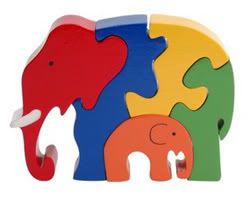 Congrats to Kristie, winner of the gift certificate!  Have fun shopping!
Feel like doing a little shopping for your little one?  Got a baby shower on the horizon?  Or are you one of those people who are done Christmas shopping by mid-September, making me green with envy?  Well, no matter your reason for loving to shop, For Your Bug-A-Boo is offering up a $25 gift certificate to their online store, just to help you indulge.  
As I often do, I've been perusing the For Your Bug-A-Boo store, and they've always got a great selection.  If you're looking for some fun toys, they carry a line of colorful ImagiPLAY items (like the elephants pictured), which I think look like some fantastic learning toys.  Or if you're into what my husband calls "lotions and potions", you can try the Noli n Nali line for baby and nursing mama.  This is just the kind of thing any new mom would love to receive.  Now I'll let you have the fun of shopping – visit For Your Bug-A-Boo, but don't forget to come back here to enter!  
4 Ways to Enter: 
1.) Just visit the For Your Bug-A-Boo site, then come back here and tell me something you like there. Remember, leave an interesting comment.  If I cannot contact the winner, you might be chosen instead based on your comment.
2.) Email subscribers are entered into this and all future giveaways, for as long as their subscription is active. Just click here: Subscribe to dkMommy Spot by Email (Please make sure to verify your Feedburner subscription by responding to the email they send you. If you do not receive it, check your junk mail. Only verified subscriptions are entered for all the giveaways.)
3.) Blog about this giveaway on your blog with a link back to this post.  Come back and leave me a Comment with a link to your blog post.
4.)  Yes, there is a #4 now!  It is NOT required to enter, but if you purchase something from For Your Bug-A-Boo, come back and let me know.  I will throw your name in the hat again.
Feel free to do all four, and you have four entries to win! You have until midnight EST on Saturday, August 16, 2008, to enter.
Check here for other current giveaways at dkMommy Spot.