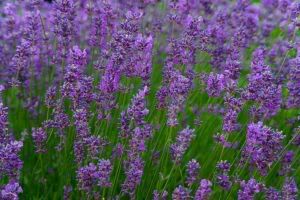 If you take pride in caring for your skin with the healthiest and most natural skin care you can find, you'll fall in love with the skin care at Garden of Eve.  Every product they carry has been carefully developed by Eve Stahl, the herbalist and health consultant responsible for starting this amazing company.  Everything is created with organic or wild crafted herbs, and you will never find a hint of the unnatural in the ingredients.  
I've been using two Garden of Eve products for awhile now, and I quickly took to using them regularly.  One is the Peace & Calm Plus Hand & Body cream.  I'm very impressed with its ability to moisturize beyond just the surface, as many hand and body creams do.  And the scent is truly heavenly.  I used to be a real fan of patchouli in my (ahem) younger years, but it eventually became too strong of a scent for me.  The Peace & Calm Plus has a hint of patchouli (just enough to bring back a little youth) without being overpowering.  There is also a blend of tangerine and orange oils which really do give you a sense of calm.  I'm picky about scents–darned picky.  But I've thoroughly enjoyed this, and I often go back for a little more just to keep the scent on my skin!  I've also been using the Expectantly Lovely Face Creme Blend on my face and neck, and the results have been noticeable.  One of the truly interesting parts of Garden of Eve:  Eve will make custom blends according to your skin's special needs.  You can contact her at eve (at) garden-of-eve (dot) com to discuss custom blending services.  This also includes custom blends for pregnant women; just because it's all natural doesn't mean a pregnant woman should use it, and Eve will see to it that you don't have to worry about your skin care safety.
Now that I have you dreaming of having healthy, glowing skin, it's time to offer up a set of creams from Garden of Eve for one very lucky reader.  I have one 1.7 oz. jar of the Peace & Calm Plus Hand & Body Cream ($20 retail), and one .5 oz. jar of Expectantly Lovely Face Creme Blend ($30 retail) to give away.  Good luck!
3 Ways to Win: 
1.) Visit the Garden of Eve site and take a look around.  Come back here and tell me something you liked or learned during your visit.  Remember, leave an interesting comment.  If I cannot contact the winner, you might be chosen instead based on your comment.
2.) Email subscribers are entered into this and all future giveaways, for as long as their subscription is active. Just click here: Subscribe to dkMommy Spot by Email (Please make sure to verify your Feedburner subscription by responding to the email they send you. If you do not receive it, check your junk mail. Only verified subscriptions are entered for all the giveaways.)
3.) Blog about this giveaway on your blog with a link back to this post.  Come back and leave me a Comment with a link to your blog post.
Do all three, and you have three entries to win! You have until midnight EST on Thursday, July 31, 2008, to enter.
Check out Eve's newsletter – great info here for us chemical free types.
Check here for other current giveaways at dkMommy Spot.