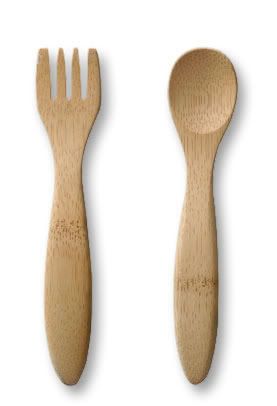 Congrats to Diana, winner of the Baby Bambu Utensils.  Enjoy!
If you're trying to part ways with plastic, you'll certainly appreciate these bamboo baby utensils I found over at GreenPartyGoods. When it was time to buy my son his first baby spoon, I simply could not find a spoon not coated in plastic, and that made me wary. All this talk about plastic leaching into our food, and I was going to put the plastic directly into his mouth? Oh, what I would have given for this set! Not only is bamboo a sustainable resource, but it doesn't leach anything. And since these utensils are made of 100% certified organic bamboo, you have to be certain you're getting something safe.
Another great feature of bamboo is its inability to soak up bacteria like so many other woods. Other forms of wood are porous, allowing tiny particles of food and germs to take residence and multiply. But not bamboo. Bamboo is also known for its strength, and the Baby Bambu Utensils sold at GreenPartyGoods are created to last for generations. And since they're so lightweight and smooth, they're easy and comfortable for your first-time self-feeding sweetie. (I would point out that these seem like they would fit through at least the early toddler years as well; after that, GreenPartyGoods does carry a larger set.)
GreenPartyGoods not only sells bamboo utensils, they also carry anything you need for a green outdoor picnic or function. Cornware, sugarcaneware, and other biodegradable party goods are offered, as well as a large selection of safe, natural children's toys. But if it's the baby utensil set making you green with envy, you've got a chance to win a pack of two sets!
3 Ways to Win:
1.) Visit GreenPartyGoods and take a look around. Come back here and tell me something you liked or learned during your visit.
2.) Email subscribers are entered into this and all future giveaways, for as long as their subscription is active. Just click here: Subscribe to dkMommy Spot by Email (Please make sure to verify your Feedburner subscription by responding to the email they send you. If you don't receive it, check your junk mail. Only verified subscriptions are entered for all the giveaways.)
3.) Blog about this giveaway on your blog with a link back to this post. Come back and leave me a Comment with a link to your blog post.
Do all three, and you've got three entries to win! You have until midnight EST on Thursday, July 24, 2008, to enter.
GreenPartyGoods is also part of our Gimme Recipes! Contest. They've has added a Natural Fiberware Lunchbox & Lid Set and some Natural Fiberware Plates to the gift bundle going to the submitter of the best healthy recipe.
Check here for other current giveaways at dkMommy Spot.