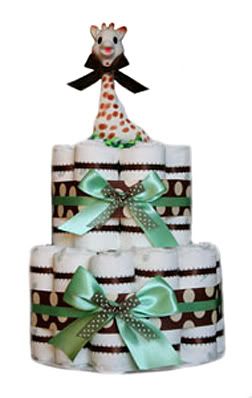 Ever heard of a Diaper Cake?  I sure hadn't until I was introduced to the GrowInStyle Diaper Cakes.  I interviewed GrowInStyle to learn more about their adorable items.  These are the perfect gift for the new mommy who loves going organic.  Want to win your own Diaper Cake?  Then read on!
dk:   Your Organic Diaper Cakes are darling!  Why don't you tell us exactly what one is?

GIS: Thanks! A Diaper Cake is a clever arrangement of disposable diapers made to resemble a cake. Diaper Cakes make unique and impressive baby shower gifts, and are perfect for every new or expectant parent.  There are two variations of a Diaper Cake, one type contains rolled diapers and the other is made from wrapped diapers. Regardless of the type of Diaper Cake you choose, there can be hidden baby products on the inside, and some display them on the outside. We believe that natural and 100% organic baby products are the only kind that children should encounter and we carefully select the best baby products for the rapidly developing infant. Our Diaper Cakes include organic and natural products such as Organic onesies, Organic stroller blankets and receiving blankets, natural and BPA free teethers, natural rubber pacifiers, organic toys and natural baby creams. GrowInStyle Diaper Cakes are constructed with the purest and safest ingredients available today.  GrowInStyle Diaper Cakes are perfect to bring along with you to the hospital when visiting a new parent, sending one as a corporate gift to an expectant parent and displaying as a baby shower centerpiece. No matter how you choose to give this gift, a Diaper Cake makes the most memorable and practical gift a parent can receive.   

dk:  I see you have Organic Diaper Cupcakes too.  What are those?

GIS: It is easy to mistake our organic cupcakes for a scrumptious and delightful dessert.  GrowInStyle Cupcakes are made with 5-10 Eco Friendly Diapers of your choice (Seventh Generation or Baby NatureCare) and make a great gift on their own,  in a set of three, or when accompanying a matching pound cake.

dk: What kind of Gift Boxes do you offer?

GIS: GrowInStyle.com carries a variety of Natural and Organic Baby Gift Sets that are perfect for gift giving. Made from 100% natural and organic ingredients, all of our baby gift boxes are pure and safe for baby. All gift sets come in beautiful boxes which are made from recycled materials, a gift on its own, and are perfect as a new baby gift, baby shower gift and more. Our Gift boxes include products such as Organic baby outfits, Natural BPA Free Teethers, Natursutten Pacifier, Weleda Baby Cream Gift Sets, Organic Baby Blankets, Born Free Baby Bottle, and baby books.  Give one of our sets to an eco friendly mom and she will love and appreciate the green baby gift.

dk: And what other sorts of products do you carry?

GIS: GrowInStyle.com carries BPA free teethers, Organic Toys, Natursutten Pacifiers and  handmade hair clips which make beautiful hair accessories for little girls. All of our products are baby tested and mother approved for safety and purity.  We are searching for new organic baby products everyday so check back with us to see our new additions. 
Now for a chance to win your own Organic Two Tier Green Polka Dot Diaper Cake! (retail $59)
4 Ways to Enter: 
1.) Just visit the GrowInStyle site and take a look around.  Then come back here and tell me what you liked or learned there.  There's lots to enjoy, so don't forget to come back to dkMommy Spot! Remember, leave an interesting comment.  If I cannot contact the winner, you might be chosen instead based on your comment.
2.) Email subscribers are entered into this and all future giveaways, for as long as their subscription is active. Just click here: Subscribe to dkMommy Spot by Email (Please make sure to verify your Feedburner subscription by responding to the email they send you. If you do not receive it, check your junk mail. Only verified subscriptions are entered for all the giveaways.)
3.) Blog about this giveaway on your blog with a link back to this post.  Come back and leave me a Comment with a link to your blog post. (If your comment doesn't show up right away, don't worry – I may have to approve it first.  My blog might think it's spam but gosh darn, I certainly don't!)
4.) It is NOT required to enter, but if you purchase something from GrowInStyle, come back and let me know.  I will throw your name in the hat again.
Feel free to do all four, and you have four entries to win! You have until midnight EST on Friday, September 19, 2008, to enter.
Check here for other current giveaways at dkMommy Spot.