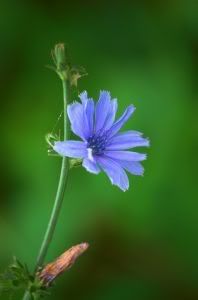 There's something magical about discovering an herb.  I mean really discovering it.  Maybe you find it dried at the health food store.  Maybe you cooked with it first.  Or maybe you found it growing in your garden, and where others saw a weed, you saw a little miracle of earth's own medicine.  The last is how I tend to view herbs.  I'm not a very good gardener when it comes to the usual flowers.  Even marigolds refuse to flourish under my care.  But what I have found is a deep connection to the herb.  To me, nothing is more satisfying than discovering an herb growing in the woods or a field, all by itself, with no help from me.  It's perfect just as it is, and it's filled with more benefits than anyone can gather at first glance.
I've been spending a good deal of time in my favorite field guide these days, just looking over the herbs and medicinal plants that grow in my area of the country.  (I use a Peterson's Field Guide, "Eastern/Central Medicinal Plants and Herbs" which I highly recommend.)  So with the images of local plant life fresh in my mind while taking a drive with my family, I had one of those eye-opening experiences.  It seemed on that day everywhere I looked, I saw herbs and medicinal plants.  Growing there along the highway was an entire natural pharmacy!  Chicory, Queen Anne's Lace, Stinging Nettle, Echinacea.  While I wouldn't recommend harvesting herbs from the roadside due to road runoff, it was a fantastic visual of just how plentiful natural remedies are.
Since we've been becoming more and more aware of the dangers of conventional pharmaceuticals and our need to find replacements, a lot of moms and dads find themselves worrying, and with great reason.  If our children are sick, what do we do to help them?  Sure, sometimes a life-saving manmade drug needs to be taken and we're grateful for it.  But there are so many instances when we can easily avoid using a medicine that cures or covers up one symptom while handing us another.  So what do we do?  We learn.  We learn from each other and from the world around us.  
In this spirit of learning, I'll be sharing more detailed information on specific herbs.  I'll even be going on an herb hunting excursion, hopefully sharing some photos and my experiences.  To follow along with all the herb info, you can check the new category called "Herbs & Their Uses".  While you may not decide to go out herb hunting so you can dry or preserve your own, you'll at least get a good idea of where they come from and how to use them.  I guarantee it will be an enriching experience; you'll begin to see herbs as a plentiful, healthy way to care for your family.  The most valuable part of our journey will be a sense of well-being that comes from knowing no matter what the media discovers, uncovers, and exposes, we have alternatives.  Natural alternatives.  And they're all around us just waiting to be discovered!