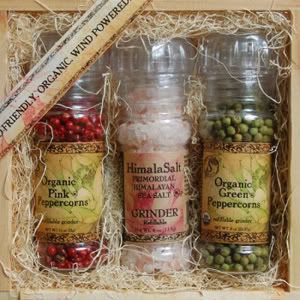 Congrats to Paul of California!  He won the HimalaSalt Giveaway.  Enjoy it, Paul!
I thoroughly enjoy cooking.  There's something therapeutic about the process now that I cook with as many natural, organic foods as I can.  Picking out the right ingredients, searching for the freshest items and the best recipes are all part of the fun for me, right down to the spices.  If there's one thing I've learned, everything you add to the recipe makes a difference, either for the good or for the bad–right down to the salt.  This most basic ingredient probably gets looked over more than any other one.  After all, it's just salt, right?  If you say that, you've probably never had the pleasure of experiencing a good, high-quality salt.
HimalaSalt is pink sea salt from the Himalayas.  It's 250 million years old and is more pure than any other salt.  In fact, the mineral content (that's what makes it a beautiful pink) actually restores the alkaline balance in our bodies, a balance very similar to that of the ocean.  This is what made it so exciting for me to try.  There's something very "back-to-the-earth" about taking that first taste because you realize just how long this salt has been in preparation and how pure it really is.  I have tasted good salts before, and it's eye opening to find out there's such a difference.  But this?  This is seriously good stuff.
You know how impressive I find some companies due to their high ethical and quality standard.  Sustainable Sourcing, the company behind HimalaSalt, is just this sort of company.  Here is a little about who they are:
HimalaSalt™ is the Purest Salt on Earth™. While there are many pink Himalayan sea salts on the market, HimalaSalt™is the only Ethically Sourced, Artisan Made Himalayan Pink Sea Salt that is Kosher Certified, Green-e Certified (made by 100% renewable wind and solar energy), sustainably packaged, with 5% of profits going to the environment and back to the source community.
Impressed?  I sure am!  And Sustainable Sourcing wants to give one of you the chance to try their product for free.  They're giving away one Green Gift Kit, which includes their Organic Peppercorn & HimalaSalt Trio. All three are refillable grinders filled with the highest grade organic Himalayan pink sea salt, green peppercorns, and pink peppercorns. They're beautiful grinders that will make a great finishing touch to a table set for your best recipes.  If you want to skip the contest and buy yourself the set, it's on sale now for $29.75, originally $35.
3 Ways to Enter:
1.) Leave a comment after visiting the HimalaSalt site, telling me something you learned from their site (there's lots of great info) or something you'd really like to try. (Winners are chosen at random, but if the first winner selected does not claim the prize, the second winner is chosen based on comment originality. So have fun with your comment!)
2.) Subscribers are automatically entered into this and all future giveaways. Just click here: Subscribe to dkMommy Spot by Email (Please make sure to verify your Feedburner subscription by responding to the email they send you. If you don't receive it, check your junk mail. Only verified subscriptions are entered for all the giveaways.)
3.) Blog about this giveaway on your blog with a link back to this post.
Do all three, and you've got three entries to win! You have until midnight EST on Thursday, July 17, 2008, to enter.
For another chance to win HimalaSalt products, check out the Gimme Recipes! Contest and send me your healthiest recipes.