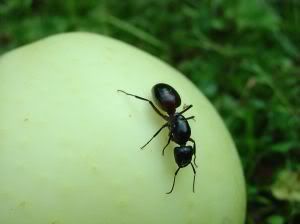 If the while the ants go marching one by one, they stop at your house first, don't grab the chemicals and pesticides to bid them farewell.  Use a few simple household remedies to get rid of those ants naturally.
Grab the bay leaves out of your spice cupboard and lay a few around in kitchen cabinets or wherever the ants like to visit.  If the ants seem to be entering boldly through the front door, you can put a little bit of used coffee grounds just outside.  Although effective, it may appear you haven't swept the front porch in awhile, though.  A nicer looking solution is mint.  Place some mint leaves in doorways and along windowsills to prevent ants from finding their welcome.
One other solution I learned recently involves cayenne pepper.  It was suggested this hottest of peppers in powdered form could be sprinkled on countertops and in cupboards.  I don't know about you, but I tend to touch the countertops a lot!  This doesn't seem too practical.  But when I found an ant farm in my tomato garden rivaling Uncle Milton's best, I grabbed up my cayenne pepper supply and sprinkled it right in the dirt.  Ants are gone, and believe me, the rabbits won't be too keen on those veggies either.  (Note: If you have rabbit issues, put some cayenne and water in a spray bottle and spray it on the plants you don't want them to nibble.  One taste and they will not come back, believe me.  I use this every spring.)
Now you're ready to enjoy an ant-free and chemical-free summer with just a few quick and easy tips to getting rid of those pesky buggers naturally.