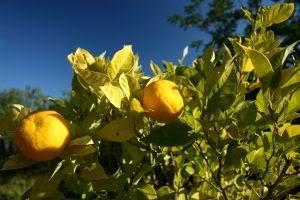 If you've looked at natural hairsprays at all, you've probably noticed you still can't pronounce half the ingredients. Even if you can, it's most likely pretty expensive. The hairspray I use is from Giovanni, the most natural I've found, and I like it a lot. But it's about $10 a bottle. So when I stumbled upon a recipe for homemade hairspray in an old home remedy book this morning, I knew I had to try it out right away and blog about it. So here it is, 100% natural lemon hairspray!
Take one large lemon (or two smaller ones) and cut it in little chunks. Place the lemon in a glass or enamel coated saucepan, and add two cups of water. Bring the water to a boil and turn the heat down so it's just simmering. Simmer the lemons for about 15 – 20 minutes, or until the water has reduced by about half. Then let the water cool and strain out the liquid, squishing the lemons to get all the juice out. Put the lemon juice in a spray bottle and store it in the fridge when you're not using it. If you won't go through it very quickly, you can add a little vodka (about an ounce) as a natural preservative. 
So does it work? I tried it out, and to my surprise it does hold! We're not talking Aqua Net here, but my bangs are in place. I initially put too much on the rest of my hair, and it did flatten out the 'do a little, so I have to assume I overdid it. Still, it's holding. 
If you have a more natural hairstyle that doesn't have to defy the laws of gravity, this should work pretty well for you. But be forewarned–lemon juice lightens blonde and lighter brown hair if you put it on before going in the sun. I'm not certain how effective this mixture would be since it's been boiled, but I'll let you know if I become a bleach blonde over the next few days. In the meantime, I'll be enjoying my 50-cent bottle of hairspray and the oh-so-fresh scent of lemon emanating from my organic tresses.
Psst! Don't forget these giveaways: L'Artisan Parfumeur , Bone Strings Poetry Book (carp(e) libris reviews), David Baldacci's new book (A Book Blogger's Diary), and A Fatal Waltz (also at A Book Blogger's Diary).  Have Fun!