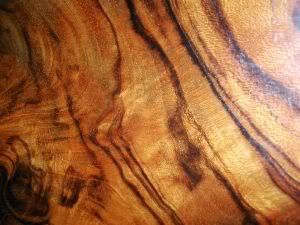 (Subtitle:  How Little Miss Natural-Pants almost got stumped.)
I have three beautiful pieces of rosewood furniture I'm quite proud of.  High gloss, Chinese hand-carved chairs and an end table.  Sometimes I sit on my couch and look at my chairs without actually sitting in them.  I just like to look.  We bought them before children, back in the days when our house was the house our friends didn't want to bring their kids to because nothing was childproof.
Then I had a son.  The house is now minimalist – breakables have been packed away, and there isn't much to look at but my chairs.  My son noticed this too, and as he seems to have a growing appreciation for Asian craftsmanship, he hasn't been able to leave these three pieces of furniture alone.  After rubbing his sticky hands across the finish of the end table time and again, and usually right after eating an apple, I noticed the finish was dulled.  Ruined.  Kaput.  I tried all the natural remedies I could conjure up, but to no avail.  I used all the nasty stuff people like me are supposed to ban from their house as unfit, but no dice.  The streaky finger work remained.  So I did what any self-respecting all-natural advice giver would do – I called my mom.
"Mom, I've tried everything but my table looks like a finger painting project.  Thank God he gets to inherit it and regret it all his life."
"Did you try mayonnaise?"
"Mayonnaise?!? How come you never told me about mayonnaise? Am I not your daughter? Do you not pass on all your homey tips to me so I can treasure them, pass them down to future generations, and blog about them like I thought them up all by myself?"
I'll be darned.  The mayonnaise took the stains right off the wood, and now I'm running around the house like a sandwich maker gone awry wiping mayonnaise on every distressed wooden surface in my house.  Yeah, it smells like a deli for an afternoon, but the woodwork is gleaming.  Even got rid of the ring marks SOMEONE ELSE left on the window ledges because I would never, oh would never, leave a glass of any sort of herbal tea sitting on a ledge for more than a day.  Or over-water a plant and let it leak on the wood.  No ma'am.  
But now I don't care because I have mayonnaise.
Tip:  Make sure it's natural mayonnaise, and not just because I'm funny that way.  Miracle Whip won't help you.  Also, test a little piece of wood where no one will see just in case there's some weird reaction.  So far I haven't experienced it, but you can't be too careful.