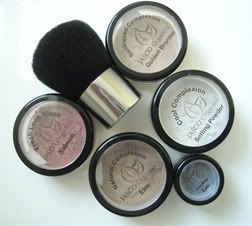 If you've never tried mineral makeup, then you're missing out on the most fun you'll ever have with your cosmetics bag.  I ditched my conventional makeup over a year ago when I first had the opportunity to learn more about mineral makeup.  I've been using a brand I was fairly happy with.  Minimal ingredients, good coverage, good colors.  But recently my cosmetics bag got another makeover, and boy, is it beautiful now.  I'm not too bad looking either.
JASCO Organics has a fabulous line of mineral makeup that I've been using regularly over the past month.  I'm in love with the coverage, the quality has been great; and the colors?  Oh, the colors, baby! I told JASCO I wasn't sure what colors I should go with, and they were very helpful. I'm really impressed with the eye-shadows as well, something I haven't had the greatest of luck with in the past.  The best part of JASCO Organics is what's NOT in it.  The ingredients are minimal, and you won't find any lead, parabens, and other "unmentionables" found in almost every makeup at the department store counter.  JASCO is even involved in the Campaign for Safe Cosmetics.
If you'd like to try some JASCO Organics Mineral Makeup for yourself, this may be your lucky day!  JASCO is giving away a $93 set of mineral makeup to one dkMommy Spot reader.  This set includes: 1 Mineral Foundation, 1 Bronzer, 1 Setting Powder, 1 Blush, 1 Eye-Shadow, 1 Kabuki Brush,and 1 Vegan Lipstick.  The winner gets to choose all her own colors too.   Won't you look smashing, dahling?
4 Ways to Enter: 
1.) Just visit the JASCO Organics site and take a look around.  Then come back here and tell me what you liked or learned there.  Remember, leave an interesting comment.  If I cannot contact the winner, you might be chosen instead based on your comment.
2.) Email subscribers are entered into this and all future giveaways, for as long as their subscription is active. Just click here: Subscribe to dkMommy Spot by Email (Please make sure to verify your Feedburner subscription by responding to the email they send you. If you do not receive it, check your junk mail. Only verified subscriptions are entered for all the giveaways.)
3.) Blog about this giveaway on your blog with a link back to this post.  Come back and leave me a Comment with a link to your blog post.
4.) It is NOT required to enter, but if you purchase something from JASCO Organics, come back and let me know.  I will throw your name in the hat again.
Feel free to do all four, and you have four entries to win! You have until midnight EST on Friday, August 29, 2008, to enter.
Check here for other current giveaways at dkMommy Spot.