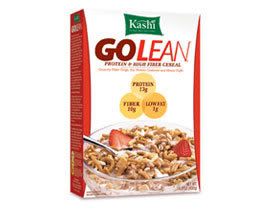 I must admit to being a cereal junkie.  Since I'm also a health nut, I have a hard time getting those two things to go hand in hand.  But I have been eating some great cereals lately that leave me guilt-free and healthier for it too.  
Kashi makes a whole line of cereals and granolas.  I crunched my way through a box of GOLEAN and a box of Mountain Medley Granola recently.  The granola made a perfect breakfast because I always find granolas energizing.  With a two-year-old to chase around, I need all the energy I can get!  The GOLEAN turned out to be my night-time snack.  (I know, I know.  Don't eat before bed.  But if you eat lots of whole fruits and vegetables throughout the day and steer clear of empty calories, a little cereal in the evening turns into a nice treat.)  
I remember seeing Kashi for the first time, years ago, on the shelf of my local health food store.  You couldn't find them anywhere else, at least not in my neck of the woods.  Now I can find them in most grocery stores.  Just another sign that the rest of the country is catching on to the importance of eating healthy!