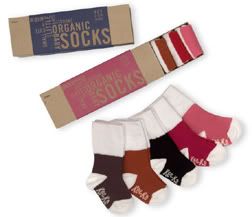 Kee-Ka is a darling online store that specializes in organic clothing for babies and toddlers.  Their clothing line includes onesies, t-shirts, pants, and even socks.  And boy, are the socks adorable!  I've taken a good look at Kee-Ka's organic socks, and they're very well-constructed.  You know how baby socks get.  The run-of-the-mill sock is bunchy, misshapen, and prone to fall off a baby foot at the slight bounce or jiggle.  But these have a nicely constructed toe and heel, and the colors are wonderful.  The socks currently for sale at Kee-Ka are in lovely fall shades, and they even have coordinating hats.
If you're looking for a baby gift, these socks are the perfect choice.  Baby socks are one of those things that a new mom simply doesn't have time to shop around for, but once she's got bad ones, she regrets it every time they fall off.  I know.  I can't tell you how many baby socks took to early retirement because either I got frustrated and threw them out, or one got lost in a parking lot somewhere.  Even better, the socks are attractively boxed to make for a welcomed gift.
Kee-Ka is offering dkMommy Spot readers a 15% discount to their online store, so take a moment to visit and see what you think.  I'm certain you'll love their selection; they even have organic bedding, something I find extremely important.  Enjoy your shopping trip!
Coupon Code:  DKWEB