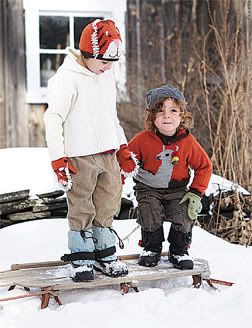 In Bolivia there is no word for "stress".  Maybe that's why their alpaca are so soft.  I'd also like to think maybe it has something to do with the fact that companies like KusiKuy pay their Bolivian knitters a fair wage, giving their Aymara and Quechua pre-Inca descendants a better life.  The knitters for the KusiKuy Clothing Company know how to produce some beautiful clothing!  The detail is amazing; in fact, the Pointelle Scoop-Neck Tunic (my personal favorite) takes four days for their most advanced knitters to create.  These are items you purchase and hold onto forever.  Alpaca yarn can withstand years of wear, and the KusiKuy fashions can too.
KusiKuy's quality extends right down to their fingertips – I've been playing with some KusiKuy finger puppets (okay, I let my son join in too), and I'm amazed at the detail in these darling figures.  They're also made of 100% alpaca and they're so special that we're setting them aside for our Christmas tree which always has an international theme.  The puppets have loops on them, making them just right for decorating as well as playing.  
Autumn is on its way and you'll need to stock up on warm clothing.  KusiKuy has a wonderful selection of exclusive Men's, Women's, and Children's items that are perfect for adding something special to your wardrobe or giving as an extraordinary gift.  Ready to do a little shopping?  KusiKuy is offering dkMommy Spot readers a 10% discount on their purchases.  Just use the code "mommyspot" at the checkout.