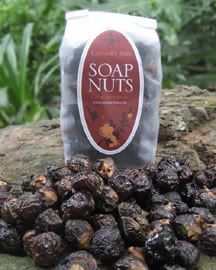 Last week LaundryTree gave away a $20 gift certificate to a dkMommy Spot reader.  (Congratulations to Kira!) Now I have two more $20 gift certificates to give away.  This time, it will be a little different.  Since I already told you all about my experience using all-natural Soap Nuts to clean my laundry, I thought we'd talk about what is in the average laundry soap.  Here are some of the more common ingredients and why they're not so good for our families:
Petroleum distillates (or napthas): Linked to cancer, lung damage, lung inflammations, damage to mucous membranes.

Phenols: Toxic.  Nonyl phenol ethoxylate, a common phenol in U.S. detergents, is banned in Europe.  Stimulates growth of breast cancer cells.

Optical brighteners: Can cause allergic reactions when exposed to skin that is later exposed to the sun.

Sodium hypochlorite (household bleach): Highly poisonous when ingested, and can mix with other chemicals to create deadly gases.

Artificial fragrances:  Many of these are made from petroleum, and they can often cause allergies and skin and eye irritation.
Whew!  And I left out the ones that are bad for the environment, although I can't imagine any of these are so great for the earth either.  
I wouldn't tell you all of this if there wasn't a simple solution.  Soap Nuts are all natural.  They're a little dried fruit off a tree that grows in India, Indonesia, and Nepal.  Better yet, they work great.  I did a little math and found that using Soap Nuts would actually be much cheaper for my family than any of the conventional laundry detergents. Want to try them? 
3 Ways to Win (One winner will be chosen from Comments, another from active email subscribers): 
1.) Go take a look at the laundry detergent you have right now.  In the comments section of this post, tell me one ingredient you found there.  (Don't worry–spelling doesn't count.)  I'll go first.  Let's see here–aha!  I found it.  Ingredients:  Soap Nuts.
2.) Email subscribers are entered into this and all future giveaways, for as long as their subscription is active. Just click here: Subscribe to dkMommy Spot by Email (Please make sure to verify your Feedburner subscription by responding to the email they send you. If you don't receive it, check your junk mail. Only verified subscriptions are entered for all the giveaways.)
3.) Blog about this giveaway on your blog with a link back to this post.  Come back and leave me a Comment with a link to your blog post.
Do all three, and you've got three entries to win! You have until midnight EST on Sunday, July 20, 2008, to enter.
For another shot at LaundryTree's Soap Nuts, check out the Gimme Recipes! Contest.  LaundryTree has added a $20 gift certificate to the gift bundle going to the submitter of the best healthy recipe.