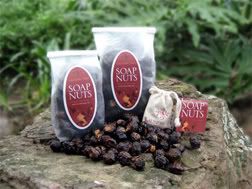 If you're looking for a natural alternative to laundry soap, I can wholeheartedly recommend SoapNuts, sold by LaundryTree.  We've given away some LaundryTree gift certificates here before, and if you didn't win, you'll have another chance today.  SoapNuts are actually little dried berries.  Berries!  I know, it seems odd throwing fruit in your laundry.  But the berries produce a natural soapy substance that has been successfully cleaning laundry around the dkMommy household for a couple of months now.  
They're chemical-free, they work fantastic, but is your favorite sweater going to smell like trailmix?  Heavens, no!  I think SoapNuts smell a little like dried cranberries, but the clothes come out completely unscented.  Unless you want a scent, that is.  LaundryTree also sells essential oils and fragrant oils that you can add to your wash.  I've been using lavender.  On laundry day, the relaxing scent of lavender comes out my dryer vent.  What's your favorite scent?  That's today's question.  The winner will receive a $20 gift certificate to LaundryTree.com.
4 Ways to Enter: 
1.) Just visit the LaundryTree page that lists the essential and fragrant oils they offer.  Then come back here and tell me your favorite one. Remember, leave an interesting comment.  If I cannot contact the winner, you might be chosen instead based on your comment.
2.) Email subscribers are entered into this and all future giveaways, for as long as their subscription is active. Just click here: Subscribe to dkMommy Spot by Email (Please make sure to verify your Feedburner subscription by responding to the email they send you. If you do not receive it, check your junk mail. Only verified subscriptions are entered for all the giveaways.)
3.) Blog about this giveaway on your blog with a link back to this post.  Come back and leave me a Comment with a link to your blog post.
4.)  Yes, there is a #4 now!  It is NOT required to enter, but if you purchase something from LaundryTree, come back and let me know.  I will throw your name in the hat again.
Feel free to do all four, and you have four entries to win! You have until midnight EST on Sunday, August 17, 2008, to enter.
Check here for other current giveaways at dkMommy Spot.