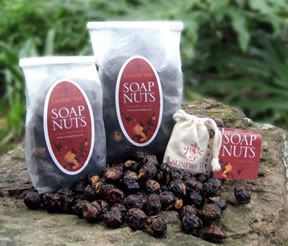 Congrats to Kyra of Michigan!  Everyone check back soon for another LaundryTree Giveaway!
I've heard of Soap Nuts; I knew they were out there, but what the heck were they?  Fruit you put in your washing machine?  You've got to be kidding.  How could they possibly work?  LaundryTree.com gave me a chance to find out recently, and I've been nothing but Nuts for about two weeks now. 
I haven't used laundry soap for years.  Seriously.  I've concocted my own combination of Borax and vinegar, but it's had its drawbacks.  While totally chemical free, the whites didn't always get as bright as I'd like.  And while vinegar is a natural fabric softener, it never worked as well as chemical-laden dryer sheets.  So I was completely caught off guard to find that after using Soap Nuts, my whites were whiter and the clothes softer.  (Soap Nuts have no brighteners or bleach, but by golly, the whites look nice anyway.)
Wondering how they work?  Soap Nuts are actually a fruit found in India, Indonesia, and Nepal.  When they're dried and then placed in water, they create a nice soapy solution.  Totally nontoxic, totally natural.  LaundryTree.com sends along a little drawstring bag that you put three or four Soap Nuts in; you also get an essential oil of your choice for adding a few drops of fragrance.  After all your wash is done, remove the Soap Nuts from the bag and dry them.  Or just throw your bag of Soap Nuts into the next load.  (I don't know how, but the little bag always manages to conveniently fall to the bottom. I was certain I'd lose the thing, but I haven't yet.)  You can use them a total of three to four washes!  Then they're compost.  We love compost.
You want to try them too?  LaundryTree.com is giving away a $20 gift certificate to their store to one of you!  Just follow the rules below.  For another shot at winning, LaundryTree has also thrown a $20 gift certificate into the Gimme Recipes! Contest gift bundle.  AND keep your eyes peeled, because we'll be giving away two more $20 gift certificates in the upcoming weeks!
3 Ways to Enter:
1.) Leave a comment after visiting the LaundryTree,com site. (It's very pretty.) Tell me why you want to try SoapNuts, or give me another use for them.  There are lots of amazing uses!  (Winners are chosen at random, but if the first winner selected does not claim the prize, the second winner is chosen based on comment originality. So have fun with your comment!)
2.) Subscribers are automatically entered into this and all future giveaways. Just click here: Subscribe to dkMommy Spot by Email (Please make sure to verify your Feedburner subscription by responding to the email they send you. If you don't receive it, check your junk mail. Only verified subscriptions are entered for all the giveaways.)
3.) Blog about this giveaway on your blog with a link back to this post.
Do all three, and you've got three entries to win! You have until midnight EST on Sunday, July 13, 2008, to enter.