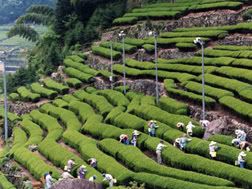 My husband and I are both big fans of green tea.  We drink it every day and enjoy trying different varieties, so when Paul at Mellow Monk sent over their Top Leaf Green Tea, we couldn't wait to brew up a pot.  Mellow Monk's Top Leaf is made of the youngest, topmost leaves which results in a wonderfully smooth green tea.  If you're not an experienced green tea drinker, you'll find this one very drinkable without a hint of bitterness.  If you consider yourself a green tea connoisseur, not to worry!  You won't be left out of the enjoyment.  I certainly haven't been.  I would put Mellow Monk's Top Leaf Green Tea in the gourmet category for certain.
Mellow Monk tea is grown in Japan by family-owned and operated tea farmers.  The farmers only use organic fertilizers, and they are all certified under Japan's Eco Farmer program, which means they are considered ecologically friendly.  And these farmers have been growing specialty green teas for generations, so you're in for a real treat when you get yourself some Mellow Monk.  
If you're wondering why everyone talks about the benefits of green tea these days, it's those marvelous antioxidants.  Antioxidants help slow the aging process because they protect your cells from free radicals, which would otherwise destroy cells.  All tea – black, green, etc. – contain antioxidants, but green tea is by far the best source because the tea isn't roasted like black teas are.  (I have a whole book on this stuff – remind me and I'll share more with you later.)
If you'd like to try out some Mellow Monk Top Leaf Green Tea, I have an extra 100-gram packet for one of you.  It's enough to brew 40 – 50 cups, and it retails at $14.75.  
4 Ways to Enter: 
1.) Just visit the Mellow Monk site, then come back here and tell me something you liked or learned there. Remember, leave an interesting comment.  If I cannot contact the winner, you might be chosen instead based on your comment.
2.) Email subscribers are entered into this and all future giveaways, for as long as their subscription is active. Just click here: Subscribe to dkMommy Spot by Email (Please make sure to verify your Feedburner subscription by responding to the email they send you. If you do not receive it, check your junk mail. Only verified subscriptions are entered for all the giveaways.)
3.) Blog about this giveaway on your blog with a link back to this post.  Come back and leave me a Comment with a link to your blog post.
4.)  Yes, there is a #4 now!  It is NOT required to enter, but if you purchase something from Mellow Monk, come back and let me know.  I will throw your name in the hat again.
Feel free to do all four, and you have four entries to win! You have until midnight EST on Saturday, August 9, 2008, to enter.
Check here for other current giveaways at dkMommy Spot.