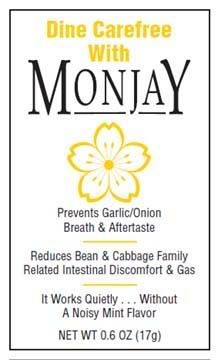 Now that our Gimme Recipes! Contest is wrapped up and I'm sifting through all those delicious recipes to choose the winner, we all have a wonderful list of healthy dishes to try.  You may have noticed that lots of them contain garlic and onions.  I love garlic and onions!  They're loaded with health benefits and help stimulate the immune system as well, but–hey, we all know the consequences of eating garlic and onions.  I received several bottles of a new product called Monjay that is sprinkled directly on your food.  It's an all-natural yeast that prevents bad breath from occurring after eating a meal that contains foods like garlic and onions.  I really want to hear what you think.
I would like to send out five of these bottles to five of you.  Just think–you can sprinkle this on your husband's pasta before dinner and since there's no taste, he won't even notice.  And you won't notice he ate extra garlic bread.  So here's what we'll do:  I will choose three comments to win one bottle each; I'll also choose one blogger who has linked to the giveaway; and the fifth will be randomly selected from the list of dkMommy Spot subscribers.  Winners can try out Monjay and send me a quick email letting me know what you thought of it.  I'll do a post later and let everyone know.
3 Ways to Enter: 
1.) Just leave a comment telling me why you'd like to try Monjay or who you'd like to try it on! Remember, leave an interesting comment.  Three of you will be chosen by comment.
2.) Email subscribers are entered into this and all future giveaways, for as long as their subscription is active. Just click here: Subscribe to dkMommy Spot by Email (Please make sure to verify your Feedburner subscription by responding to the email they send you. If you do not receive it, check your junk mail. Only verified subscriptions are entered for all the giveaways.)
3.) Blog about this giveaway on your blog with a link back to this post.  Come back and leave me a Comment with a link to your blog post.
Feel free to do all three, and you have three entries to win! You have until midnight EST on Thursday, August 7, 2008, to enter.
Check here for other current giveaways at dkMommy Spot.