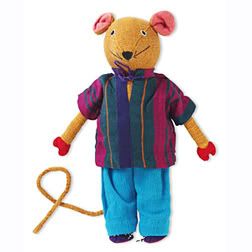 When my son was born, I noticed such a lack of natural baby and kid products available to consumers.  In my area, there was not a single store I could go to if I wanted a toy made of, say, organic cotton.  (Now I find them scattered in mainstream stores, but still nothing more.)  That's when I started turning to the internet and found there are actually places I can get all the things I feel are right for my family.  One of the companies I talked about a few months ago was Wild Dill, an online store that sells all sorts of organic, fair, and natural things for babies and small children.  
In that posting, I had made mention of one adorable Barefoot Mouse toy, and lo and behold, it showed up at my door one day!  He has made himself right at home here, and in fact, he's so cute he decided to make himself a decorative piece atop the dresser most days.  The Barefoot Mouse is even cuter in person.  (In mouse?) He's a well-constructed little guy and has an impressive outfit as well.  Everything on him is naturally dyed, hand woven, quality stuff.  Even if he were to be dragged about the house, I'm sure he would hold up better than the other stuffed creatures in residence here, but there's something special about him.  
My two-year-old son requests playing with the mouse regularly. After all, even an ornamental fellow needs a stroll off the dresser from time to time.  When they're done, my son brings the mouse back to me and insists Mr. Barefoot go back in his spot on the dresser.  It never fails to make me laugh; the child understands the difference between this toy and the bear he routinely practices his Kung Fu moves on.  
If you are in the market for organic kid's clothing or a special gift, or if you have a spot in your kids' room that requires a charming mouse,  please pay a visit to Wild Dill and do a little looking around.  You're sure to find something unique for a very special someone.