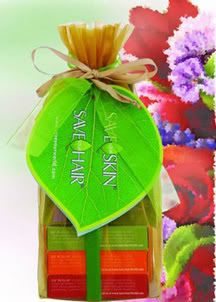 It may be the first day of the dkSummer Fun Giveaway, a week full of eco-friendly toy giveaways, but moms need some eco-friendly fun too.  So I figured what better way to kick off a celebration all about kids than to pamper the moms who raise them?  Save Your World is giving away one Variety Gift Bag ($49.99 retail) full of all-natural hair and skincare products to one lucky mom. 
I think I've tried all of the Save Your World products by now, and I'm thoroughly enjoying them all.  Especially in the jungle of natural shampoos, these guys swing to the top of my list.  If you took a look at the rack in my shower, you'd see what looks like a health food store display of shampoos and conditioners.  Tested and rejected.   When I started learning about the chemicals in shampoos, I began my search for a natural shampoo that would treat my hair even better than the salon brands.  
Save Your World has a line of shampoos called Save Your Hair that is extremely effective, and the first natural shampoo I love.  I finally have soft, manageable hair, and the fragrance of the natural essential oils–heavenly!  Paired with their shampoos are soaps and body lotions that are just as yummy.  I'm really hooked on the Rainforest and Oasis Fruit scents.  Oh, and the Pure Mist.  And did I mention Regal Blossom?
Save Your World is a truly unique company.  Each product you buy purchases an acre of rainforest for a year.  That's because they're partnered with Conservation International, leasing 200,000 acres of Amazonian rainforest, saving it from deforestation.  (The purchase of one of the Variety Gift Bags saves seven acres of rainforest a year.)
So what's in the Variety Gift Bag?  An 8-oz. Oasis Fruit Shower Gel, an 8-oz. Rainforest Body Lotion, 3 bars of exfoliating soap, 3 Save Your World bracelets, and a sample pack of every bath soap, shower gel, lotion, shampoo, and conditioner they carry!  A great way to experience an amazing company.
Please take the time to visit the Save Your World site and find out what this company represents.  I think it's truly impressive what they stand for, and the time they've taken to present it to visitors of their beautiful site is evident.  
3 Ways to Enter:
1.) Leave a comment after visiting the Save Your World site. Tell me which product you like the most, or you can tell me something you learned from the site. (Winners are chosen at random, but if the first winner selected does not claim the prize, the second winner is chosen based on comment originality.  So have fun with your comment!)
2.) Subscribers are automatically entered into this and all future giveaways. Just click here: Subscribe to dkMommy Spot by Email (Please make sure to verify your Feedburner subscription by responding to the email they send you. If you don'
t receive it, check your junk mail. Only after you verify will your subscription register you to win.)
3.) Blog about this giveaway on your blog with a link back to this post.
Do all three, and you'
ve got three entries to win! You have until midnight EST on Thursday, June 26, 2008, to enter.
And don't forget to keep track of the other giveaways this week, all part of the dkSummer Fun Giveaway!