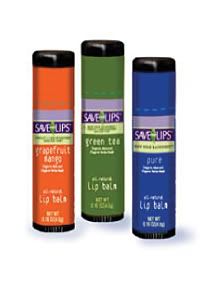 Save Your World is up to their old tricks again – making great all-natural products while saving the rainforest acres at a time!  This time, they've asked me to check out their new lip balm line, Save Your Lips.  They've introduced three varieties:  Green Tea, Grapefruit Mango, and Pure (unflavored).  All three get the dkMommy Spot seal of approval.  
As I've come to expect from Save Your World, the ingredient list is rather brief and includes only identifiable, natural ingredients. All of their items, including the lip balm, contain Aloe Vera and Yerba Mate which are rich in antioxidants, vitamins, and minerals.  And I love the flavors!  The Pure lip balm is unflavored, which has been great to have around.  I don't always want to wear a flavored lip balm to bed, so this one has been my choice at night.  The other two are naturally flavored with pure essential oils, and both are pleasant and not the least bit overpowering.
If you happen to be a user of mineral makeups, then maybe you already know how to use them as lipstick. It requires a good lip balm applied to the lips first, then the mineral makeup color of your choosing is applied with a brush on top of the balm.  I've been using the Save Your Lips lip balm for just this, and it's been working wonderfully.  And when I don't have time or energy for color, I use the balm as a subtle lip gloss by wearing a little extra.
But the best part of Save Your Lips?  Every time you buy one little tube, you're saving an acre of rainforest for a whole year!  Impossible you say?  Save Your World has rainforest conservation down to a science, and they go into great detail on their site to make sure you understand exactly how it works.  Every product they sell, they take a portion of those profits and put it right into an amazing program called Conservation International that maintains 200,000 acres of rainforest in Guyana.  So when you buy shampoo, soap, even lip balm, you're really saving an acre of rainforest!  
Want to try out the Save Your Lips lip balm line?  Save Your World has sent me an extra set for one of you!
4 Ways to Enter: 
1.) Just visit the Save Your World site and take a look around.  Then come back here and tell me what you liked or learned there.  There's lots to enjoy, so don't forget to come back to dkMommy Spot! Remember, leave an interesting comment.  If I cannot contact the winner, you might be chosen instead based on your comment.
2.) Email subscribers are entered into this and all future giveaways, for as long as their subscription is active. Just click here: Subscribe to dkMommy Spot by Email (Please make sure to verify your Feedburner subscription by responding to the email they send you. If you do not receive it, check your junk mail. Only verified subscriptions are entered for all the giveaways.)
3.) Blog about this giveaway on your blog with a link back to this post.  Come back and leave me a Comment with a link to your blog post. (If your comment doesn't show up right away, don't worry – I may have to approve it first.  My blog might think it's spam but gosh darn, I certainly don't!)
4.) It is NOT required to enter, but if you purchase something from Save Your World, come back and let me know.  I will throw your name in the hat again.
Feel free to do all four, and you have four entries to win! You have until midnight EST on Saturday, September 13, 2008, to enter.
Check here for other current giveaways at dkMommy Spot.