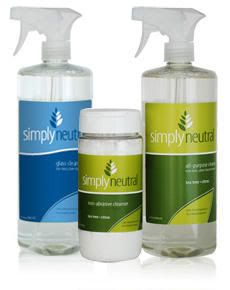 Congratulations to Christine – happy cleaning!!!
I've been waiting for this giveaway and it's finally here!  If there's one thing I am insistent upon keeping chemical free in my home, it's cleaning products.  So when I got my Value Pack from Simply Neutral (There's one for you too!) I couldn't wait to try them out.  Simply Neutral's cleaning products are 100% natural with no preservatives, no added fragrance, no nasty fume-filled chemicals.  The scents you experience while cleaning are from the essential oils they select for their cleaning properties, and that's it.  I spent a great deal of time scrubbing my kitchen and bathrooms with these products, and my two-year-old was nearby throughout most of it.  I felt perfectly safe.  
The three products in this giveaway set includes: One full-sized bottle of All-Purpose Cleaner, one full-sized bottle of No-VOC Glass Cleaner, and one full-sized bottle of Non-Abrasive Cleaner.  The Non-Abrasive Cleaner works every bit as well as the commercial bleach scrubby stuff without giving you a chemical hand bath; believe me, I have one tough kitchen sink!  It's an old one with worn-away glaze, and I managed to get that thing sparkling.  The No-VOC Glass Cleaner works wonderfully, better than my old standby of vinegar and water.  Besides, it's unscented so my house doesn't smell like a tossed salad when I'm done.  The All-Purpose Cleanser has essential oils that smell wonderfully, and man, does that stuff work on my stove!  I am not the neatest of cooks, not by a long shot.  So it's nice having a bottle of this at hand.
Now I'll bet you'd like to clean up on this giveaway!  Here's your chance.  Simply Neutral will send one lucky winner their Value Pack.  (If you can't wait, you can buy your own Value Pack online for only $14.99.  These are big bottles, and the price is fantastic compared to other natural cleaners.)
4 Ways to Win: 
1.) Visit the Simply Neutral site and take a look around.  Come back here and tell me something you liked or learned during your visit.  Remember, leave an interesting comment.  If I cannot contact the winner, you might be chosen instead based on your comment.
2.) Email subscribers are entered into this and all future giveaways, for as long as their subscription is active. Just click here: Subscribe to dkMommy Spot by Email (Please make sure to verify your Feedburner subscription by responding to the email they send you. If you do not receive it, check your junk mail. Only verified subscriptions are entered for all the giveaways.)
3.) Blog about this giveaway on your blog with a link back to this post.  Come back and leave me a Comment with a link to your blog post.
4.)  Yes, there's a #4 now!  It is NOT required to enter, but if you purchase something from Simply Neutral, come back and let me know.  I'll throw your name in the hat again.
Feel free to do all four, and you have four entries to win! You have until midnight EST on Friday, August 1, 2008, to enter.
Check here for other current giveaways at dkMommy Spot.