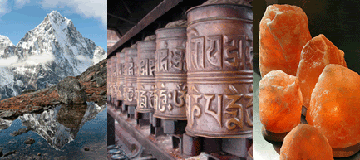 Congrats to Angela – proof that subscribers win too!
Not too long ago I got an email from a dkMommy Spot reader (Hi Sheri!) asking me if I knew anything about crystal salt lamps and whether or not they worked.  By golly, I didn't.  But I've always wondered about them, so Solay Wellness, Inc. sent me two.  (Guess who gets the second one?  One of you!)  I was really excited about trying them.  After all, ever since I was a child I've been in love with rocks.  I mean really nuts about them.  My mother's only wish was that I would learn not to fill my pockets with every pretty pebble so she could do just one load of laundry that wasn't stone washed.  So when I opened my salt lamp, I was in awe.  It's beautiful.  A big hunk of shining, sparkling pink Himalayan salt, mounted on a wooden base.  I immediately set it up in the bedroom, and I've been leaving it on while I read in the evenings.  
The claim with the salt lamp is that it increases the negative ions in the room, which is supposed to be good for asthma and allergy sufferers, as well as giving one a sense of well-being and calm.  I must say that I certainly feel good with the warm, soft glow of the lamp going.  Is this the negative ions?  I haven't a clue.  I'm too in love with rocks to not have a sense of well-being looking at my beautiful lamp.  These lamps are also said to help improve learning and memory, so I'm all for that.  I need all the memory I can get.  
Another purpose for the salt lamp is to lessen the humidity in the room.  This is definitely a benefit to asthma and allergy sufferers.  I was able to test this out thoroughly by placing the lamp in my bathroom, the least ventilated place in our house.  Despite a large ventilation fan and all sorts of attempts to get the humidity out of that bathroom, we've never been successful.  It is a battleground of mildew and damp.  But I have to say that after running this lamp over a few hours, I smelled absolutely nothing icky, and my bath towel was completely dry; normally towels can't be left in there.  They'd hang all day and still be damp.  That alone was enough to impress me!  Still, my favorite part of the lamp is the comforting glow.  That and it's too big to get left in my pocket.
Want to see how a Solay Salt Lamp works for you?  I have one waiting here, and it's in the 5 – 7 pound range and retails at $29.95.  
If you want to buy one right away, Solay Wellness is offering dkMommy Spot readers a 10% discount.  Just use coupon code Thanks.
4 Ways to Enter: 
1.) Just visit the Solay Wellness site, then come back here and tell me something you liked or learned there. Remember, leave an interesting comment.  If I cannot contact the winner, you might be chosen instead based on your comment.
2.) Email subscribers are entered into this and all future giveaways, for as long as their subscription is active. Just click here: Subscribe to dkMommy Spot by Email (Please make sure to verify your Feedburner subscription by responding to the email they send you. If you do not receive it, check your junk mail. Only verified subscriptions are entered for all the giveaways.)
3.) Blog about this giveaway on your blog with a link back to this post.  Come back and leave me a Comment with a link to your blog post.
4.)  Yes, there is a #4 now!  It is NOT required to enter, but if you purchase something from Solay Wellness, come back and let me know.  I will throw your name in the hat again.
Feel free to do all four, and you have four entries to win! You have until midnight EST on Friday, August 8, 2008, to enter.
Check here for other current giveaways at dkMommy Spot.