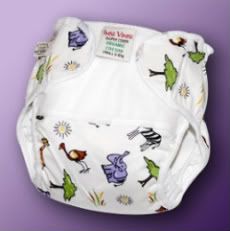 One of the greatest advantages to cotton diapers, aside from being chemical free, is actually the price.  I've added it up before, and over the diapering years of your child, cloth diapers can save a family thousands of dollars over the cost of disposables.  Thousands!  Cloth starting to sound like a good deal?
Whether you use cloth diapers for your baby, or you've been wanting to try them but are still a little nervous about the initial investment, there's a big diapering sale at For Your Bug-A-Boo that you'll want to check out.  They've got several choices, including a one-size-fits-all four-pack of organic cotton diapers that would be a nice way to get your feet wet (and not your baby's bottom) for $27.95.  I also like the diapering ointments they carry–both brands are from companies I trust and have mentioned here before (California Baby and Hyland's.)
For Your Bug-A-Boo is a company I've discussed here in the past as well, and I can happily recommend them.  It's owned by a stay-at-home mom who, like me, did a lot of searching for the right products for her son and desires to help other moms find the best, most natural solutions.  The sale goes through July 21st, 2008, so if you have a little one in diapers or you know someone who does, give For Your Bug-A-Boo a visit.