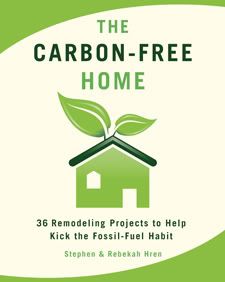 Congratulations to Patti of Minnesota, winner of The Carbon-Free Home!
With all the talk of needing to change our energy consumption habits, many of us feel lost.  Maybe we have some cute curly lightbulbs in our house, and perhaps we plan our shopping trips better so we don't double-back through town and use so much gasoline.  But aside from this, what can we do?  If your electric bill is giving you nightmares, if you're dreaming of being more self-sufficient, then The Carbon-Free Home – 36 Remodeling Projects to Help Kick the Fossil Fuel Habit, may just be the next book to pick up.
For me, The Carbon-Free Home, published by Chelsea Green, is a rich resource of information on becoming more self-reliant.  The focus of the book is most definitely environmental, but because of my interest in self-sufficiency, I've found that the two most often go hand in hand.  I don't like relying on the electric company and the gas company.  I dream of windmills in my back yard!  I appreciate the detailed info authors Stephen and Rebekah Hren share on everything from solar cooking to using rainwater to those wonderful windmills.  They go to great lengths to take out the guesswork for you and me, even giving difficulty levels for various projects and the estimated cost of each.  Whether you live in an urban apartment or have land far from civilization,  you'll find tips and information useful to help you cut down on your carbon footprint.
If you've got kids, there are projects in here that you can involve them in as well.  For instance, building a solar oven would make a fabulous project for the whole family. (There are simple instructions and more involved, permanent solar oven constructions as well.  Take your pick, they all look fun and efficient.) I can't imagine a more engaging and educational family activity than learning to cook food on an oven you've all made together, with no gas and not even a flame.  Teaching children self-sufficiency and love for their planet are two important lessons for certain!
Other sections of The Carbon-Free Home include:  Refrigeration, Domestic Hot Water, Rainwater, Heating & Cooling, Food & Landscaping, and more.  This book is a rich resource for any family looking to conserve energy and lessen their dependence on fossil fuels.
3 Ways to Enter: 
1.) Just tell me one thing you do or would like to do to help your family cut down on energy usage. Remember, leave an interesting comment.  If I cannot contact the winner, you might be chosen instead based on your comment.
2.) Email subscribers are entered into this and all future giveaways, for as long as their subscription is active. Just click here: Subscribe to dkMommy Spot by Email (Please make sure to verify your Feedburner subscription by responding to the email they send you. If you do not receive it, check your junk mail. Only verified subscriptions are entered for all the giveaways.)
3.) Blog about this giveaway on your blog with a link back to this post.  Come back and leave me a Comment with a link to your blog post.
Feel free to do all three, and you have three entries to win! You have until midnight EST on Thursday, August 14, 2008, to enter.