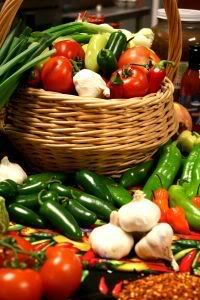 Yes, the days of the Gimme Recipes! Contest have arrived.  Get out your veggies. Get out your spoons and measuring cups.  There's a bag of home and kitchen prizes to be won, and that entire bag may have your name on it.
We're all bothered by skyrocketing food prices.  (I'm still in lemon shock.)  And we all hang out here together because we want the healthiest possible solutions for our family.  But sometimes saving money and raising a healthy family seem to clash.  Organic fruits and vegetables are often higher priced than non-organic, and fresh, whole foods can give us sticker shock when set next to a cheap frozen or boxed dinner. 
But fortunately, most of us "home management" sorts have a recipe or two that we know is not only healthy and whole, but cheap and easy too.  So that's where you come in!  I'm asking anyone and everyone to email me your healthiest, easiest, cheapest recipes.  Together, we'll build a great place to visit when we need a meal with the most bang for the buck–and the body.  
In addition to having a place to visit for recipes, I'm giving the winner a whole bundle of stuff!  This contest is open until July 31, 2008, so you have lots of time to enter lots of recipes.  And while you're compiling recipes, I'll be compiling items for the gift bundle.  Keep visiting the Gimme Recipes! Contest tab, found right at the top (under the picture), and you'll see not only the recipe list grow, but the gift bundle as well.
Good luck and Bon Appetit! 
Please visit the Gimme Recipes! Contest page for full rules.