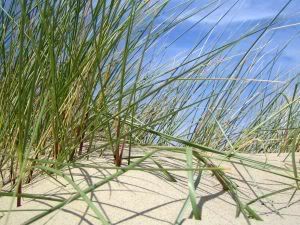 If you were visiting dkMommy Spot last week, you noticed that the posts were oldies but goodies while I took a break from the world of blogging.  Well, I also had a week-long break from the mayhem of suburbia.  My family and I trekked up to Northern Michigan for some dune enjoyment and hiking in the woods, which also included lots of herb harvesting.
I can't imagine a more pleasant experience than tromping through forest and field, miles from the sound of traffic, discovering nature's most perfect medicinals.  I took every opportunity given to reap what nature sowed, in an effort to build up the family natural medicine chest.  I'll cover some of those herbs and their uses in detail over the coming weeks, and I can't wait to share them with you.  I've got a good selection of herbs dried and stored for the winter to come, and soon I'll begin the tincture making process.  What could be better than hunting down your own remedies and using them to keep the family healthy, or helping to heal them when the body needs a little boost?  
Keep your eyes peeled for more podcasts in the coming months too.  I can promise you at least one very informative interview that will give you moms and dads a good look at family herbal use.  It should be quite exciting!  Almost as exciting as being in the woods, dirt under your nails, imploring a small plant for a leaf or two of its medicinal wisdom.
And thanks to all of you for your continued visits, encouragement, and fantastic comments!  It's always a joy to share herbal information with you.