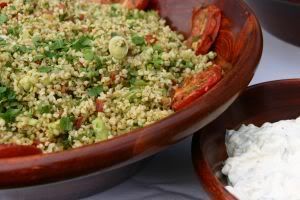 The Gimme Recipes! Contest has concluded, and with great success.  dkMommy Spot was able to collect a wonderful array of healthy, easy, and inexpensive recipes from all of you wonderful readers.  Judging this contest was actually a fun challenge.  We've been eating like health-conscious royalty around here, but alas, only one winner can be selected.
At first the narrowing down was hard, but after a few days of thought, the choice became more and more obvious to me.  One recipe stood out among the others as the perfect example of what this contest was all about.  One recipe was so darned quick, healthy, and oh-so-cheap that I had to pick it.  Enough with the suspense already!  The winner is….Quick, Cheap, Delicious, & Healthy Couscous sent in by Nancy of North Carolina!  It's not just the name on this one that covers all the bases.  It's truly one of the easiest recipes of the bunch.  And it's versatile.  Nancy's suggestion of using leftover veggies is great.  If you have a fridge full of vegetables that you're not quite sure what to do with, this recipe is the ticket.  Simple yet complete.
Since receiving this recipe, we've gone through almost two bags of couscous.  (There's a big bowl of this couscous in the fridge right now, in fact.  Loaded with veggies from our garden.) I started realizing we may have found our winner as the couscous kept ending up as a side dish for the other recipes, or as lunch for the next day.  My two-year-old son gave it his stamp of approval by scarfing it down and saying, "More coo-coos", and I've found it to be an excellent way to get him to eat lots of raw vegetables.  (Just chop 'em fine, Mom, and they will be eaten!)  
Nancy, your big ol' gift bundle will be sent out to you pronto!  Thanks so much.
Now, there were lots of other fantastic recipes and I'd be remiss if I didn't give them a mention.  In fact, another one has been served here about three times in the last month. Sheri, who sent several wonderful submissions, gets a big dkMommy thumbs up for her Linguine & Spinach Pesto.  Sheri, I'm considering that one an honorable mention.  It deserves its own prize, so I'm getting something out to you as well.  Fantastic!  
Others to highlight would be Jennifer's Easy Black Bean Soup, also currently residing in our fridge, and Barbara's Fruit Slaw which makes me drool just thinking about it.  I could literally carry on about these recipes for two more posts, but I shall refrain.  Make sure you take a good look and get cooking because there are some real gems in there!  
If you have more recipes that fit the Gimme Recipes! bill, please send them to me at themommyspot (at) gmail (dot) com.  The contest may be closed, but I'll certainly add your recipe to the permanent recipe page along with links to your site, etc.  And great recipes will occasionally be sent a prize, just to keep things interesting.
Thanks again to all of you for your participation!  It was great fun, and we'll all benefit from your efforts for a long time to come.