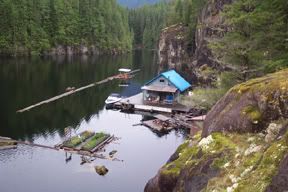 When you want to escape but can't afford the airfare, what do you do?  I pick up a book.  Recently, my family did manage to escape for a week and take a beautiful vacation in the Northern woods.  With all the books I review, I had a hard time figuring out what book would accompany me – at first.  But what better way to thoroughly enjoy the wooded setting than to take a book about a spot that made our bit of forest look like a happening metropolis?  I chose Up the Lake by Wayne J. Lutz.
At first I wasn't sure which blog of mine was best suited for this book.  While carp(e) libris reviews does have a lot of memoir and true stories featured (such as this one), here at dkMommy Spot we like to talk about living naturally.  I knew you'd be just the right audience. 
Wayne Lutz and his wife are actually pilots from Los Angeles.  Not exactly the place one goes to discover wild life.  Well, not that kind of wild life.  So when in their travels they stumbled across the float cabins of Coastal British Columbia, they knew they'd found their perfect getaway.  Up the Lake shares the adventures and challenges they have had learning to live off the grid on a cabin that literally floats on the river.  These unusual cabins are built upon cedar logs and are anchored to the shore in the middle of the wilderness.  If you want to get to your house, you have to take a boat.  If you want to have running water, you'd better stand outside and watch the river go by – or learn to harness it for yourself.  
I found Up the Lake to be rather inspirational.  That's because I've always dreamed of ditching it all and becoming totally self-sufficient.  But I'm a suburb girl, no matter how I try not to be, and any decent local of a wilderness town would certainly laugh me out of the woods.  Or would they?  In Lutz' case, he openly admits to his shortcomings and his inability to hide his citified roots.  But where he falls short, the locals step in, in particular one helpful neighbor named John who seems to know everything about everything, and is more than happy to lend a hand.
Whether you want to get lost in another world or you want to remember your dreams of leaving it all for the wilderness, give Up the Lake a shot.  You may just find yourself once again dreaming of a slower paced lifestyle; who knows?  Maybe you'll follow through after you remember it can be done.
Also check out Wayne Lutz's blog.  Amazing photography!
3 Ways to Enter: 
1.) Tell me what your "dream life" is.  Do you want to pack it all up and move into the wilderness?  Or are you dreaming of the bright lights of the city?  Maybe you already live the dream! Tell us about it.  Remember, leave an interesting comment.  If I cannot contact the winner, you might be chosen instead based on your comment.
2.) Email subscribers are entered into this and all future giveaways, for as long as their subscription is active. Just click here: Subscribe to dkMommy Spot by Email (Please make sure to verify your Feedburner subscription by responding to the email they send you. If you do not receive it, check your junk mail. Only verified subscriptions are entered for all the giveaways.)
3.) Blog about this giveaway on your blog with a link back to this post.  Come back and leave me a Comment with a link to your blog post. (If your comment doesn't show up right away, don't worry – I may have to approve it first.  My blog might think it's spam but gosh darn, I certainly don't!)
Feel free to do all three, and you have three entries to win! You have until midnight EST on Thursday, September 11, 2008, to enter.
Check here for other current giveaways at dkMommy Spot.