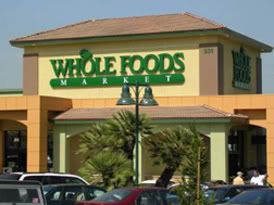 Congrats to Michelle of Texas – have fun on that shopping trip!
It's Whole Foods Friday once again.  But it's not just Whole Foods Friday – it's also the last day of the Bloggy Giveaways Carnival!  So let's send out a big salute to both events and give away a Gift Card, shall we?  I know how the Bloggy Giveaways Carnival goes – you're flipping through those giveaways at a fast and furious pace because, heavens, it's got well over 1,000 listings!  So let's keep the fun going and see if we can't get one of you hooked up with a little splurge at your local Whole Foods Market.  (Mama needs some spoiling and they have organic chocolate, don'tcha know?)
Just hop over to Whole Story (the official Whole Foods blog) and check it out.  Then come back here to enter.  That's it!  
3 Ways to Win: 
1.) Leave a comment telling me something you saw, liked, or learned at Whole Story – that simple!
2.) Email subscribers are entered into this and all future giveaways, for as long as their subscription is active. Just click here: Subscribe to dkMommy Spot by Email (Please make sure to verify your Feedburner subscription by responding to the email they send you. If you do not receive it, check your junk mail. Only verified subscriptions are entered for all the giveaways.)
3.) Blog about this giveaway on your blog with a link back to this post.  Come back and leave me a Comment with a link to your blog post.
Do all three, and you have three entries to win! You have until midnight EST on Monday, August 4, 2008, to enter.