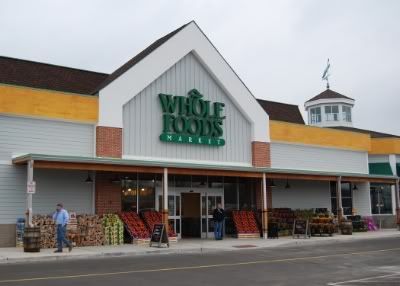 And Jaime gets the gift certificate this time around – congratulations!  This Friday, August 15, will be the last of the Whole Foods Friday Gift Card Giveaways, so don't miss it!
Ah, Whole Foods Friday!  The day we all enter our comments, cross our fingers, and hope for that gift card that will give us a little Whole Foods shopping joy.  
Today I'll have you popping over to Whole Story, Whole Food Market's blog, for a peek at their blogroll.  I  thought it would be fun to discover some new sites on green living, healthy foods, and general eco-fun information.  Come back here and tell me who you discovered.  (The blogroll is in the right-hand column if you scroll down just a touch.)  Easy-peasy.  And you're guaranteed to find some interesting blogs in there.  I sure have!
3 Ways to Enter: 
1.) Just visit the Whole Story blogroll, then come back here and tell me the name of a blog you found there and enjoyed. Remember, leave an interesting comment.  If I cannot contact the winner, you might be chosen instead based on your comment.
2.) Email subscribers are entered into this and all future giveaways, for as long as their subscription is active. Just click here: Subscribe to dkMommy Spot by Email (Please make sure to verify your Feedburner subscription by responding to the email they send you. If you do not receive it, check your junk mail. Only verified subscriptions are entered for all the giveaways.)
3.) Blog about this giveaway on your blog with a link back to this post.  Come back and leave me a Comment with a link to your blog post.
Feel free to do all three, and you have three entries to win! You have until midnight EST on Monday, August 11, 2008, to enter.
Also of note at Whole Foods:  If you're a food blogger and you enjoyed the Gimme Recipes! Contest, you'll have lots of fun with the Whole Foods "Food Blogger Budget Recipe Challenge."  Remember, you must be a food blogger to enter.  So for a special link to the entry form, please email me at themommyspot (at) gmail (dot) com and I'll send one to you.