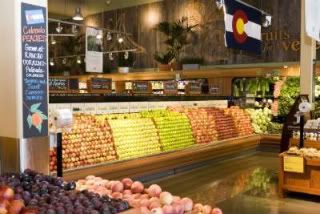 Congrats to winner Alyssa of Pennsylvania!  Winner #2, we're waiting to hear from you.  So check that email!
We don't have a Whole Foods in our neighborhood, but every summer for the past couple of years, we put a cooler in the back of the car and drive 136 miles to the nearest one.  Then we make a day of it, eating our lunch there and picking out cool stuff to take back home.  (Oh my gosh, I sound like a total health food nerd.  Nice way to blow what little cover I had left.)   
Now Whole Foods has a blog, Whole Story, and I've been having a lot of fun surfing it to get a Whole Foods fix between store visits.  They share recipes, videos, information on getting chemicals out of your home, and a plethora of other tips.  (I've been drooling over their video on how to make Homemade Greek-Style Veggie Burgers.) 
In order to celebrate their new blog, Whole Foods has sent me some $25 Gift Cards for you, my healthy green readers.  The rules are slightly different for this giveaway, and we'll be giving out TWO cards!  One winner will be chosen from Comments, and the other from the email subscriber list.  So read on…
2 Ways to Enter, 2 Gift Cards to Win:
1.) Visit the Whole Story blog and look around a little.  Come back here and leave a comment on this post, telling me something you learned on Whole Story.  (While you're over there, leave them a comment or two.  It's not required for the giveaway, but it sure would be a nice thing to do.) 
2.) Subscribers are automatically entered into this and all future giveaways. Just click here: Subscribe to dkMommy Spot by Email (Please make sure to verify your Feedburner subscription by responding to the email they send you. If you don't receive it, check your junk mail. Only verified subscriptions are entered for all the giveaways.) 
Do both for two entries.  Enter to win before midnight, July 14, 2008.  Winners will be drawn randomly.  
Note:  Whole Foods is also offering a $25 gift card as part of the Gimme Recipes! Contest gift bundle!