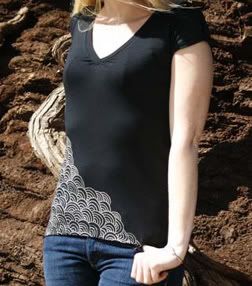 This is a tough review to write. That's because I have so much to share with you, and I don't know where to start:  The hip organic clothing line or the amazing cause behind it all.  The whole purpose behind Wildlife Works is far from average.  They are the first business in the entire world to build their brand for the main purpose of wildlife conservation.  When I say I'm floored with what they've accomplished, I'm not kidding.  Wildlife Works is responsible for protecting wilderness habitats, creating jobs, and building schools in areas that have agreed to share their land with the wildlife.  They've even created an 80,000 acre wildlife sanctuary in Kenya; right next door is an Eco-factory they built that employs locals and produces some of their products.  When you buy their clothing, you support their valiant efforts.
So what about that clothing?  It's not only all organic and made of things like natural soy and cotton, it's so stylish.  One thing I've noticed (and according to your comments, you have too) children's clothing is hard to find when it comes to organic.  Babies? Yes. Adults?  You bet.  Kids? Nope.  But Wildlife Works has a line of clothing for all ages.  
I've been wearing a classic tee from Wildlife Works that I'm – well, wild about.  It's made of an organic soy/cotton blend, and the cut is totally unique.  The puffed sleeves and longer fitted length actually looks good enough to put with some of my skirts.  The design is inspired by the natural habitat of their Kenyan sanctuary; Wildlife Works boasts a whole line of these habitat-inspired designs.  Comfy, dressy, and buying one helps protect that precious wildlife.  
Wildlife Works is giving one of these Puff Sleeve V-Neck Tees ($68 retail) to one dkMommy Spot reader.  (The winner even gets to choose the right size: Extra Small, Small, Medium, or Large.) I always ask readers to visit the site and take a look around, and again I ask.  But please take a little extra notice in what this company is about.  This is the sort of company dkMommy Spot likes to support, and I'm sure you'll agree with me!
4 Ways to Enter: 
1.) Just visit the Wildlife Works site and take a look around.  (Make sure you come backThen come back here and tell me what you liked or learned there.  Remember, leave an interesting comment.  If I cannot contact the winner, you might be chosen instead based on your comment.
2.) Email subscribers are entered into this and all future giveaways, for as long as their subscription is active. Just click here: Subscribe to dkMommy Spot by Email (Please make sure to verify your Feedburner subscription by responding to the email they send you. If you do not receive it, check your junk mail. Only verified subscriptions are entered for all the giveaways.)
3.) Blog about this giveaway on your blog with a link back to this post.  Come back and leave me a Comment with a link to your blog post.
4.) It is NOT required to enter, but if you purchase something from Wildlife Works, come back and let me know.  I will throw your name in the hat again.
Feel free to do all four, and you have four entries to win! You have until midnight EST on Monday, September 1, 2008, to enter.
Check here for other current giveaways at dkMommy Spot.