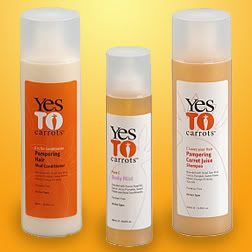 Congrats to Linda of Paris, Texas, winner of this giveaway!
 Have you noticed all the new "chemical free" hair and beauty products hitting the grocery aisles these days?  They're springing up like crazy.  Ever read the ingredients?  Most of them, in my experience, still contain all sorts of nasty stuff.  Yes to Carrots not only sells products that contain no parabens or other icky unpronounceables, they sell them for a good price, and you don't have to go very far to find it.  In America, it's now in Walgreen's.  I'm happy to see some good natural products finally hitting the mainstream where people can easily discover them.  
So far, I think my favorite is the Pure C Body Mist.  Maybe that's because I had a wee bit too much sun this weekend, and I needed some help curbing the pain.  The mist is full of minerals from the Dead  Sea, pumpkin, sweet potato, carrot seed extract, aloe, and more goodies. It's all great for the skin, and it's very light with a refreshing scent.  (No, you will not smell like a carrot.  None of it leaves you smelling like baby's pureed lunch; it's a nice yummy scent.) Like the ingredient list?  The shampoo and conditioner is just as nice, and it leaves your hair soft and manageable. 
Yes to Carrots is sharing some of their products with dkMommy Spot readers.  I have a 16.9 ounce bottle of C Loves Your Hair Pampering Carrot Juice Shampoo, a 16.9 ounce bottle of C is for Conditioner Pampering Hair Mud Conditioner, and a Pure C Body Mist, all for one randomly chosen winner.  This is a $23.97 retail value.
3 Ways to Enter:
1.) Leave a comment after visiting the Yes to Carrots site. Tell me something you'd like to try, or something you've tried and why you like it. (Winners are chosen at random, but if the first winner selected does not claim the prize, the second winner is chosen based on comment originality. So have fun with your comment!)
2.) Subscribers are automatically entered into this and all future giveaways. Just click here: Subscribe to dkMommy Spot by Email (Please make sure to verify your Feedburner subscription by responding to the email they send you. If you don't receive it, check your junk mail. Only verified subscriptions are entered for all the giveaways.)
3.) Blog about this giveaway on your blog with a link back to this post.
Do all three, and you've got three entries to win! You have until midnight EST on Thursday, July 10, 2008, to enter.
Psst!  If you like giveaways, I just discovered a new site called Making Money, Keeping Money.  She's got a lot of giveaways listed every Monday from all over the blogosphere.   I love to see sites like this do well because it makes giveaways much more exciting for everyone.  So drop by her site and have a blast!  I'll keep her button up in the sidebar so you can visit every Monday.