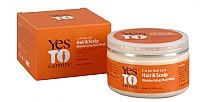 Mud for your hair?  You bet! And it's made with extracts of organic carrot, organic pumpkin, and organic orange to give your locks a boost of beta carotene and all sorts of goodies your hair will thank you for.  I tried the Hair and Scalp Mud Mask from Yes to Carrots on my own hair, which is a rather coarse, naturally curly – uh – mess most days.  The Hair and Scalp Mud Mask was easy and fun to use; a nice bit of pampering.  After washing my hair as normal and toweling it dry, I applied some of the Yes to Carrots mud and let it sit for about 12 – 15 minutes.  After rinsing it, I felt a definite difference in the condition of my hair.  The smell is nice too, and no, you won't smell like a tossed salad.  It's a mild and refreshing semi-sweet aroma that I think most women would find appealing.
If ingredients are as key to you as they are to me, you'll find them all listed right on the Yes to Carrots website.  I have more and more respect for companies willing to put it all out there and let you know just what's in their products.  In fact, if I can't find the ingredients list easily, I don't even bother anymore.  So I'm happy to tell you Yes to Carrots lists everything for you.
Want your hair and scalp moisturized and healthy?  Yes to Carrots is giving away one full-sized Hair and Scalp Mud Mask to a dkMommy Spot reader.  Here are the rules; you know the drill.  Good luck and happy hair!
3 Ways to Enter: 
1.) Just visit the Yes to Carrots site and take a look around.  Then come back here and tell me what you liked or learned there.  Remember, leave an interesting comment.  If I cannot contact the winner, you might be chosen instead based on your comment.
2.) Email subscribers are entered into this and all future giveaways, for as long as their subscription is active. Just click here: Subscribe to dkMommy Spot by Email (Please make sure to verify your Feedburner subscription by responding to the email they send you. If you do not receive it, check your junk mail. Only verified subscriptions are entered for all the giveaways.)
3.) Blog about this giveaway on your blog with a link back to this post.  Come back and leave me a Comment with a link to your blog post.
Feel free to do all three, and you have three entries to win! You have until midnight EST on Saturday, August 30, 2008, to enter.
Check here for other current giveaways at dkMommy Spot.